Consumers use PCs to go online only 32% of the time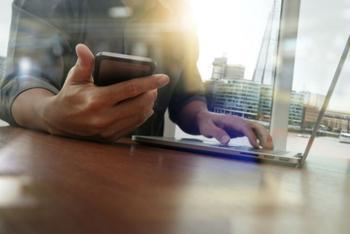 (Mark Huffman @ ConsumerAffairs) It wasn't that long ago that smartphones, for the most part, didn't exist. Consumers used cell phones for talking and texting.
Then, in 2007, Apple introduced the first iPhone, unleashing a host of competitors. Today, people are more likely to access the internet – for directions or to make a purchase – using a smartphone than a PC.
A new report from ComScore shows just how far that transition has gone. The report shows that smartphone apps now account for more than half the time we spend online.
Not much of a shock
 "The high usage of smartphone apps compared to other media touchpoints shouldn't come as much of a shock when you think about your daily online behavior," the authors write.
"Chances are when you want to know  what's happening around the world, or in pop culture, or in your friends' lives, your first move is to reach into your pocket and open one of the number of different social apps on your phone. And unless you already happen to be sitting at a computer, a smartphone app is probably your first option when you decide to listen to music, get directions to a destination, check the weather or catch up on email."
The report shows that smartphone apps had reached a saturation point, accounting for 41% of web use by June, 2014. That saturation point reached 50% in just the next two years.
And because our phones are with us most waking hours, we are on them more than our PCs, which require us to be in one location. PCs account for just 32% of online time now.
Optimized for mobile
Apps are programs that optimize a particular site for mobile use, making it easier to access and use them rather than having the user navigate to the site using a web browser. One of the most popular apps is Facebook, allowing users to post easily from their phones.
More recently, the Pokemon Go app has been hugely popular, providing an augmented reality experience for gamers who no longer have to sit in front of a console or PC.
Apps can also increase a phone's vulnerability, since many have been infected with malware. As we reported last year, entertainment apps have been prime suspects as malware carriers. Consumers should use caution when downloading any app, using only trusted developers from trusted sources.
Log in to post comments

1092 reads