Network Assessment
(30% IT savings - near 100% uptime)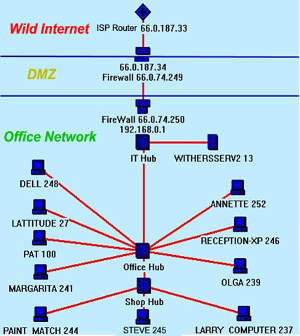 We can fix problems when they occur, but would it not be better to proactively defend against them?
We believe systems should "just work" and that downtime is much more expensive than the sum of total operating expenses plus the cost of the repair. Downtime can also result in lost business, diminished customer service and credibility, and lost revenue opportunities.
Network Assessment is designed to uncover system anomalies that, when addressed and brought up to standard, will provide near 100% system uptime, availability, and increased performance, whilst reducing your IT cost by as much as thirty percent or more.
We assess your Hardware, Operating Systems, Software, Security, Infrastructure (cables....), Performance, Availability, Management, and Usability. The end result is a detailed "Action List" report of how to bring your network them up to standard.
In addition, the assessment generates accurate "Network Documentation" which is vital for efficient and reliable network operation and IT cost reduction. Since most networks evolve over time and records are seldom kept up to date, if they exist at all. System documentation plays vital roll.
Schedule your Network Assessment Today!!!
---
Sample Desktop Documentation
Computer Profile Summary
Computer Name:     DDS01THEROPY (in KINDDOCTOR)
Profile Date:     Thursday, June 22, 2014 3:59:35 PM
Windows Logon:     SSDUSER
Active Directory OU:     Computers
DNS Suffix:     kinddoctor.local
---



Your Privacy


In page Links:


 

Operating System
 
System Model
Windows 8.1 Professional (x64) (build 9600)
Install Language: English (United States)
System Locale: English (United States)
Installed: 6/10/2014 12:30:22 PM
Boot Mode: UEFI with success: Secure Boot
 
Dell Inc. Inspiron One 2330 00
System Service Tag: XYZ123A
Chassis Serial Number: XYZ123A
Enclosure Type: All-in-One
Processor a
 
Main Circuit Board b
3.40 gigahertz Intel Core i3-3240
128 kilobyte primary memory cache
512 kilobyte secondary memory cache
3072 kilobyte tertiary memory cache
64-bit ready
Multi-core (2 total)
Hyper-threaded (4 total)
 
Board: Dell Inc. 0HJH5X A00
Serial Number: .XYZ123A.BR5483141I01F7.
Bus Clock: 100 megahertz
UEFI: Dell Inc. A14 09/02/2013
Drives
 
Memory Modules c,d
990.65 Gigabytes Usable Hard Drive Capacity
948.39 Gigabytes Hard Drive Free Space

MATSHITA DVD+-RW UJ8E1 [Optical drive]

TOSHIBA DT01ACA100 [Hard drive] (1000.20 GB) -- drive 0, s/n 14CDR9TMS, rev MS2OA7S0,  SMART Status: Healthy

 
8098 Megabytes Usable Installed Memory

Slot 'ChannelA-DIMM0' has 4096 MB (serial number XYZ123A)
Slot 'ChannelB-DIMM0' has 4096 MB (serial number 9XYZ123B)

 
Local Drive Volumes
 

| | | | | |
| --- | --- | --- | --- | --- |
|   |   |   |   |   |
| c: (NTFS on drive 0) | 990.65 GB | 948.39 GB free |   |   |

 
Network Drives
 
None discovered
Users (mouse over user name for details)
 
Printers

local user accounts
last logon
 admin
6/11/2014 10:51:18 AM
(admin)
 SSDUSER
6/11/2014 12:36:39 PM
(admin)
local system accounts
 Administrator
3/10/2014 4:54:37 PM
(admin)
 Guest
never
 
 HomeGroupUser$
never
 
SPINEandDISC domain logons
 SSDUSER
6/11/2014 1:07:51 PM
(admin)

 

 Marks a disabled account;    Marks a locked account

 

| | |
| --- | --- |
| Canon Inkjet Type4 Class Driver | on WSD-01ef9c3d-0f25-439b-bdd7-58a8c719a100.0062 |
| Microsoft Shared Fax Driver | on SHRFAX: |
| Microsoft XPS Document Writer v4 | on PORTPROMPT: |

Controllers
 
Display
Intel(R) 7 Series/C216 Chipset Family SATA AHCI Controller
 
Intel(R) HD Graphics [Display adapter]
Dell INSPIRON ONE [Monitor] (23.1"vis, s/n 4000000, February 2014)
Bus Adapters
 
Multimedia
Microsoft Storage Spaces Controller
Intel(R) 7 Series/C216 Chipset Family USB Enhanced Host Controller - 1E26
Intel(R) 7 Series/C216 Chipset Family USB Enhanced Host Controller - 1E2D
Intel(R) USB 3.0 eXtensible Host Controller - 0100 (Microsoft)
 
Bluetooth Hands-free Audio
Realtek High Definition Audio
Virus Protection [Back to Top]
 
Group Policies

Windows Defender Version 4.3.9600.16384
    Scan Engine Version 1.1.10600.0
    Virus Definitions Version 6/10/2014 Rev 1.175.1854.0
    Last Disk Scan on Thursday, June 12, 2014 5:00:22 AM
    Realtime File Scanning On

 
None discovered
Communications
 
Other Devices

 
 
 
↓ Bluetooth Device (Personal Area Network)
 
Status: 
Cable unplugged
 
Dhcp Server: 
none responded
 
Physical Address: 
34:23:87:DE:0D:E4
 
Connection Speed: 
3 Mbps
Bluetooth Device (RFCOMM Protocol TDI)
Dell Wireless 1704 802.11b/g/n (2.4GHz)
Microsoft ISATAP Adapter
Microsoft Kernel Debug Network Adapter
↑ Qualcomm Atheros AR8161 PCI-E Gigabit Ethernet Controller (NDIS 6.30)
 primary 
IP Address: 
192.168.12.62 / 24
 
Gateway: 
192.168.12.1
 
Physical Address: 
C8:1F:66:AC:DD:B4
 
Connection Speed: 
100 Mbps
 
Networking Dns Server: 
192.168.12.200

 
Microphone (Realtek High Definition Audio)
Realtek Digital Output (Realtek High Definition Audio)
Speakers (Realtek High Definition Audio)
Dell Wireless 1704 Bluetooth v4.0+HS
Microsoft Bluetooth Enumerator
Microsoft Bluetooth LE Enumerator
Bluetooth L2CAP Interface
Bluetooth Remote Control
Fintek eHome Transceiver
HID-compliant consumer control device (2x)
HID-compliant system controller (2x)
HID-compliant touch screen
HID-compliant vendor-defined device (3x)
Microsoft eHome Infrared Transceiver
Microsoft Input Configuration Device
USB Input Device (4x)
Integrated Webcam
MG5400 series _17108B000000
HID Keyboard Device
Microsoft eHome MCIR 109 Keyboard
Microsoft eHome MCIR Keyboard
Microsoft eHome Remote Control Keyboard keys
HID-compliant mouse (3x)
Realtek PCIE CardReader (2x)
Canon MG5400 series Printer WS
Fax
Microsoft XPS Document Writer
Root Print Queue
CCD01LAPTOP: Associate:
MG5400 series _17108B000000
Microsoft Device Association Root Enumerator
Microsoft IPv4 IPv6 Transition Adapter Bus
Generic USB Hub (2x)
USB Composite Device (2x)
USB Root Hub (2x)
USB Root Hub (xHCI)
Generic volume shadow copy
MG5400 series _17108B000000
USB Storage Use in past 30 Days (mouse over last used for details)
 
Hosted Virtual Machines (mouse over name for details)

|   | Last Used |
| --- | --- |
| TOSHIBA External USB 3.0, s/n XYZ123A, rev 0 | 6/11/2014 1:16:06 PM* |
| CENTON DS Pro, s/n F0DA78A5, rev 8.07 | 6/10/2014 2:08:43 PM* |

 

* Possibly used again before the reboot following this time.

 
None discovered

Network Map (mouse over IP address for physical address) [Back to Top]

IP
Device Type
Device Details
Device Roles
192.168.12.1 
Router
Linksys / Wireless Broadband Router WRT600N
Gateway, Web Server
192.168.12.31 
Printer
Npi9784bb (in WORKGROUP), HP Compaq / HP Color LaserJet 2840 / #CNHC74K04F
Web Server, Samba Server
192.168.12.50 
Windows XP Workstation
frontoffice (in KINDDOCTOR), HP Compaq
 
192.168.12.55 
Windows XP Workstation
Desk1 (in KINDDOCTOR), HP Compaq
Print Server
192.168.12.56 
Linux Router
Belkin / N150 Wireless Router F9K1001 v4 / #121222GB402116
Apache Web Server
192.168.12.60 
 
Physical Address F8:BC:12:74:9F:15
 
192.168.12.61 
 
Physical Address F8:BC:12:76:24:DB
 
192.168.12.62 
Windows 8 Workstation
Dds01theropy (in KINDDOCTOR),
dds01theropy.KINDDOCTOR.local
Browse Master
192.168.12.63 
Windows 7 Workstation
Ssd01doctor (in KINDDOCTOR)
Browse Master
192.168.12.69 
Windows 7 Workstation
Ccd01laptop (in KINDDOCTOR(
Browse Master, SQL Server
192.168.12.101 
 
Apple
 
192.168.12.103 
Printer
Brn_db376b (in KINDDOCTOR), Brother MFC-8460N / #H8J746697
Web Server, Samba Server
192.168.12.107 
Windows 2003 Server
Server (in KINDDOCTOR), Dell
IIS Web Server, Print Server, Browse Master, Domain Controller, SQL Server, Time Source
192.168.12.108 
Windows 2003 Server
Server (in KINDDOCTOR), Dell
IIS Web Server, Print Server, Domain Controller, SQL Server, Time Source
192.168.12.111 
Windows XP Workstation
Desk2 (in KINDDOCTOR), HP Compaq
 
192.168.12.112 
Windows 7 Workstation
Ccd01laptop (in KINDDOCTOR)
SQL Server
192.168.12.116 
Windows 95/98/Me Workstation
17108b000000 (in KINDDOCTOR), Canon
Web Server, Samba Server
192.168.12.118 
Network Device
Netgear
 
192.168.12.200 
Windows 2012 Server
Ssd01server01 (in KINDDOCTOR)
Domain Name Server, IIS Web Server, Domain Controller, Time Source

Missing Security Updates new – for Adobe, Apple, Java, Microsoft and more [Back to Top]
Hotfixes from Windows Update (agent version 7.9.9600.16384) .
Last download: 6/10/2014 2:42:17 PM. 

These security updates apply to this computer but are not currently installed (using Advisor definitions version 2014.5.19.1), according to the 05/13/2014 Microsoft Security Bulletin Summary and bulletins from other vendors. Note: Security benchmarks require that Critical and Important severity security updates must be installed. 
 

 
System Management products
 

Software Licenses [Back to Top]

 
 
Belarc - Advisor
71471f8a
CyberLink - PowerDVD
MES

ABC123

2-02
CyberLink - PowerDVD12
MES1

ABC123

-02
CyberLink - PowerStarter

ABC123

30312-02
Intel - AMT
{ABC123-8B6E-43b6-857B-C6E4FC25798A}
Intel - GFX
{F0E3AD40-

ABC123

-4360-9C76-B9AC9A5886EA}
Intel - ICCS
{BB2F9D3D-DBF9-

ABC123

-A25D-FC995EBAECC9}
Microsoft - Internet Explorer
00262-50379-99904-

ABC123

(Key:

ABC123

-JNY7R-

ABC123

-DV3Q7-

ABC123

)e
Microsoft - Office Professional Edition 2003
73931-

ABC123

-0000106-57007 (Key: GWH28-

ABC123

P-P6RC4-

ABC123

-3HFDY)
Microsoft - PowerShell
89383-

ABC123

-0001260-

ABC123

Microsoft - Windows 8.1 Professional (x64)
00262-50379-

ABC123

-AAOEM (Key:

ABC123

-JNY7R-

ABC123

-DV3Q7-

ABC123

)e